The high cost of being a truth-seeking journalist in the emerging nation of Timor-Leste
Filmed over four years in Australia's most misunderstood neighbour East Timor, Breaking the News explores the high cost of being a truth-seeking journalist in an emerging nation.
Eleven years since the East Timorese successfully voted for independence from Indonesia, Breaking the News gets behind the scenes of news and current affairs reportage to challenge those who think a free press automatically comes with independence. What happens to the local journalists when the foreign reporters return safely home after covering each crisis, their stories in the can? Jose Belo and Rosa Garcia are two local journalists enmeshed in the political turmoil of their country, who regularly put themselves and their families at risk by reporting ongoing corruption and injustice.

Streaming on the Beamafilm platform.

Breaking the News, available to rent worldwide via Vimeo on demand.
Labyrinths & Leaks Online interactive extension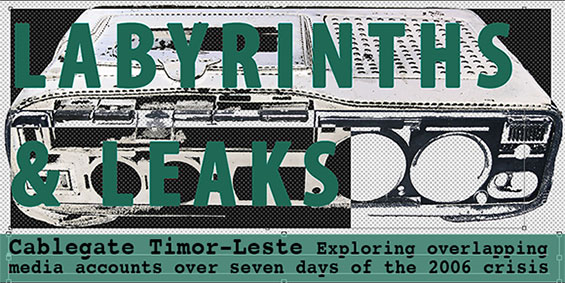 Labyrinths & Leaks, Cablegate Timor-Leste Interactive.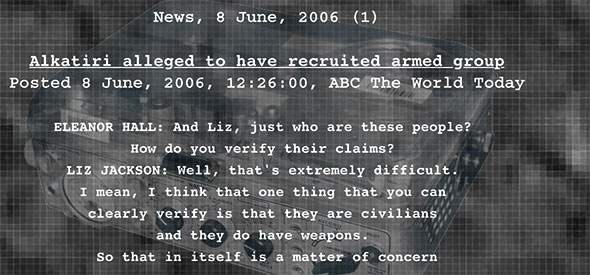 ABC journalist Eleanor Hall questioning how Liz Jackson is verifying the militia groups claims. Alkatiri alleged to have recruited armed group 12.26pm 8 June 2006.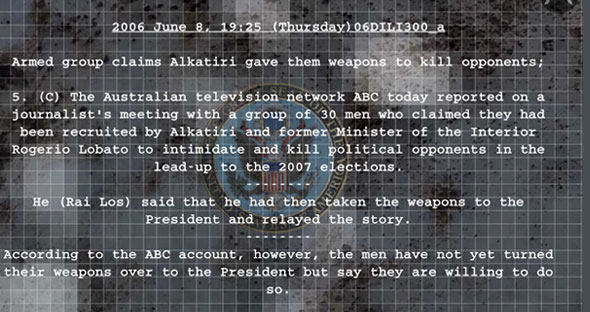 US Embassy cable relaying the ABC news (above)and the extra information they have on events. Labyrinths & Leaks, abridged US Embassy cable - 7.25pm 8 June 2006 (Wikileaks).
"Nicholas Hansen's new documentary explores the stories behind the stories, demonstrating why even the most esteemed international media can and must be questioned." Dan Edwards, writer & journalist
"Journalism students anywhere could learn from this story, particularly if they dream of one day covering coups and wars in out-of-the-way places." Gerry van Klinken, Permanent research fellow Royal Netherlands Institute of Southeast Asian and Caribbean Studies
"Breaking the News shows just how tough and dangerous it can be to find and break the news - for insiders and outsiders alike." Jock Given, Professor of Media and Communications, Swinburne Institute
"A film that tells the story of a brave and dedicated reporter, his commitment to the truth, and his continued efforts to fearlessly hold the government of Timor Leste to account. This film also examines how some Australian reporters allowed themselves to be manipulated by the players in the 2006 East Timor crisis, with their reports contributing to the downfall of the Fretilin government and effectively reinforcing the stated aims of Australian government policy at the time." John Martinkus, Journalist, Author and Academic
"A very enlightening film. It gives a new insight into the East Timorese experience and the complexities that underpin politics in the region. Australian audiences should see this" Shannon Owen, Documentary Producer
LEARN MORE ABOUT BREAKING THE NEWS