The release of Breaking the News coincides with a time of intense public debate about the relationship between politicians and the media.
STREAMING ON DEMAND


Available to rent worldwide on Vimeo on demand.
TRAILER
PRESS KIT
BREAKING THE NEWS, PRESS KIT (PDF DOWNLOAD).
MEDIA RELEASE
CANBERRA PREMIERE, 24 AUGUST 2012 (PDF DOWNLOAD).
IMAGES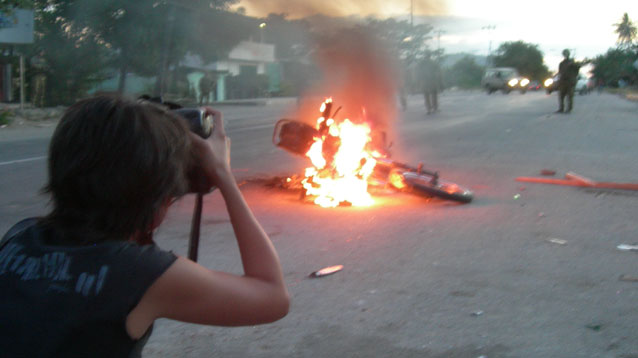 High resolution production images for media and publicity are available on request.
M: (+61) 421 762 122
Email: info@mutinymedia.com

VIDEO INTERVIEWS
THURSDAY 20TH OCTOBER 2011
Media7's Russell Brown interviews Director Nicholas Hansen
TVNZ New Zealand, Media7 Series 7 Episode 11 (Russel Brown Blog 'Truths Well Told')
6TH OCTOBER 2011
Reporting on East Timor
ABC Australian Network, Newsline, Reporter: Sarah Jaensch (transcript )
Note: This ABC media package is a self serving piece, which attempts to generalise pivotal criticism of ABC employees, within documentary Breaking the News.
RESOURCES
SBS, Dateline Four Days in Dili 23 May 2006.
Journalist David O'Shea,

ABC, The World Today Alkatiri alleged to have recruited armed group 8 June 2006.
Eleanor Hall interview with reporter Liz Jackson

ABC, Four Corners Stoking the Fires 19 June 2006.
Reporter Liz Jackson, Producer Lin Buckfield, Researcher Peter Cronau, Executive Producer Bruce Belsham

In 2007 Mari Alkatiri threatenned to sue the ABC for defamation.
Alkatiri to sue ABC for role in downfall 7 February 2007, SMH, Lindsay Murdoch

"Mr Alkatiri said yesterday that even before prosecutors in Dili, told him on Monday that he had been cleared of any wrongdoing, he had instructed lawyers in Australia to prepare legal action against the ABC over the program "Stoking the Fires", which was broadcast in June last year.
The program, which focused on power struggles in Dili, won a Gold Walkley, Australia's top journalism award, for Liz Jackson, Lin Buckfield and Peter Cronau.
"The ABC damaged my image, my family and my party," Mr Alkatiri said by telephone from the East Timorese capital."

Taxing Times in Timor
ABC 4 Corners, 1 October 2010
By Andrew Fowler and Peter Cronau
Andrew Fowler's extended interview with Prime Minister Xanana Gusmao

Peter Cronau on the "massive failure of Australian journalism."
Reporting from the bottom of the heap
reportageonline.com, 26 June 2012 Way Back Archive - accessed 17 Aug 2021)

Peter Cronau has spend most of his journalistic career doing investigative stories. Trying to dig out what hides under the surface and bring this to the attention of his audience.

"However, and there is always a however. Some of the fundamental questions in the nature of our society don't get addressed and the biggest failure of Australian journalism and obviously international was the gullibility of the Gulf war and the invasion of Iraq," he says.
In hindsight some might say that if we knew then what we know now, that there were no weapons of mass destruction, it would have been different. Peter Cronau is just not sure how true this is.
He says that there were many people at the time pointing out the lies that were being told by leaders here and overseas. But the media did not give them adequate access.
"They were marginalised and in fact sometimes actively put down and really pushed to the margins," he says and continues.
"That's a massive failure of Australian journalism."

Drawing the Line
ABC 4 Corners, 17 March 2014
By Marian Wilkinson and Peter Cronau


"If liberty means anything at all, it means the right to tell people what they don't want to hear." George Orwell