Canberra Premiere screening 24 August @ ANU
We are pleased to announce the Canberra premiere of our documentary Breaking the News on 24th August 2012 at the Australian National University.
Friday 24th August 2012 at 6.30pm, Free Entry.
Copland Theatre, Building 25 off Kingsley St, The Australian National University.
Introduced by First Secretary for Timor Leste and followed by a Q&A with director Nicholas Hansen.
Hosted by the Asia-Pacific Learning Community and Canberra Friends of Dili.
The Breaking the News DVD with extras is due for release by late 2012 and available to pre order. Please join our Facebook group for further updates about ordering the DVD and to stay in touch with the film and our continued interest in independent journalism in Timor Leste.
Facebook: facebook.com/BreakingTheNewsDocumentary
Twitter your responses to: @BreakingTheNews/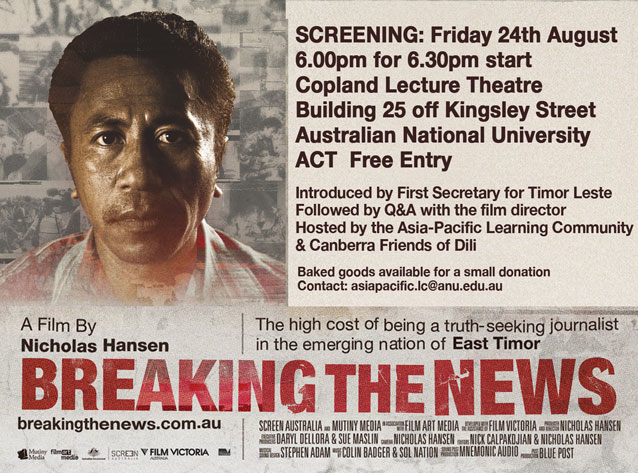 Recent MEDIA

Nicholas Hansen's new documentary explores the stories behind the stories, demonstrating why even the most esteemed international media can and must be questioned,
Writer Dan Edwards.
Power Plays and Media Manipulation in East Timor: Breaking the News