Breaking the News is a cautionary tale about journalism in an age of spin and spectacle.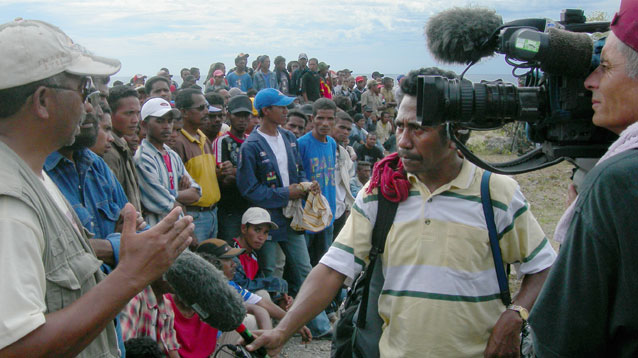 For the first time this documentary reveals the story of East Timorese journalists at the centre of their country's turmoil and the high cost of bearing witness to the struggles.
Filmed in newspaper offices, in homes and on the street, this observational journey gives a strong sense of the life for journalists in a developing country.
Local journalists intermittently work for foreign media uncovering tough stories in an unstable environment. What happens to the local journalists when foreign reporters return safely home after covering each crisis, their stories in the can? Jose Belo and Rosa Garcia are two local journalists enmeshed in the political turmoil of their country. Professional colleagues and rivals, Jose and Rosa were both activists supporting their fellow East Timorese during the Indonesian occupation.
Synopsis - Bahasa Indonesia
Sebelas tahun sejak masyarakat Timor Timur sukses memberikan suara untuk kemerdekaan dari Indonesia, Breaking The News masuk ke belakang layar berita dan reportase peristiwa terkini untuk menentang mereka yang berpikir sebuah pers yang bebas secara otomatis akan muncul setelah kemerdekaan. Apa yang terjadi pada jurnalis-jurnalis lokal ketika reporter-reporter dari luar negeri pulang dengan selamat setelah memberitakan tiap krisis, kisah yang terjadi pada mereka yang tinggal? Jose Belo dan Rosa Garcia adalah dua jurnalis lokal yang terjerat dalam kekacauan politik negeri mereka, yang sering memposisikan diri dan keluarga mereka dalam bahaya dengan melaporkan korupsi dan ketidakadilan yang terjadi.
JOSE BELO
Jose is a cameraman and director of Tempo Semanal, a weekly newspaper he founded in late 2006. Breaking the News follows Jose's journey from resistance fighter during the Indonesian occupation when he was translator and cameraman filming combat with the guerrillas to the director of the most successful newspaper in East Timor.
"Breaking the News exposes what happens to journalists in East Timor. Politicians use the media and also blame the media. Politicians praise journalists who do soft stories and dislike the journalists who do serious stories." Jose Belo, Journalist and Publisher, Tempo Semanal
ROSA GARCIA
Rosa Garcia is a senior writer and reporter with the Timor Post, a daily newspaper. During the 2006 crisis Rosa had just given birth to her second child, when her newspaper was forced to close after two of her colleagues were badly beaten, Rosa went to work for the ABC-TV Four Corners crew.
"What happened in 2006 was like a movie without end. There is evidence of armed civilians, there are casualties, there is a house on fire. But we do not know who was the main actor. Sooner or later justice must be done to provide an important lesson for the people of this nation, not to repeat these actions in future." Rosa Garcia, Journalist, Timor Post
PRODUCTION CREDITS
Written & Directed by
Nicholas Hansen
Produced by
Nicholas Hansen
Executive Producers
Daryl Dellora
Sue Maslin
Camera
Nicholas Hansen
Editors
Nick Calpakdjian & Nicholas Hansen
Musical Sound Design
Stephen Adam
Musical Tracks
Sol Nation

Instrumental Guitar
Colin Badger
Made with the assistance of the
Documentary Australia Foundation
Developed with the Assistance of Film Victoria

Produced by Mutiny Media


Executive Produced by Film Art Media


Financed by Screen Australia